MIF++ is the cross-departmental network of MIF collaborators at the University of Liverpool
Style of network seminars and who is welcome to participate and contribute.
Network seminars : once per month on average, between 11-13 with lunch from 12.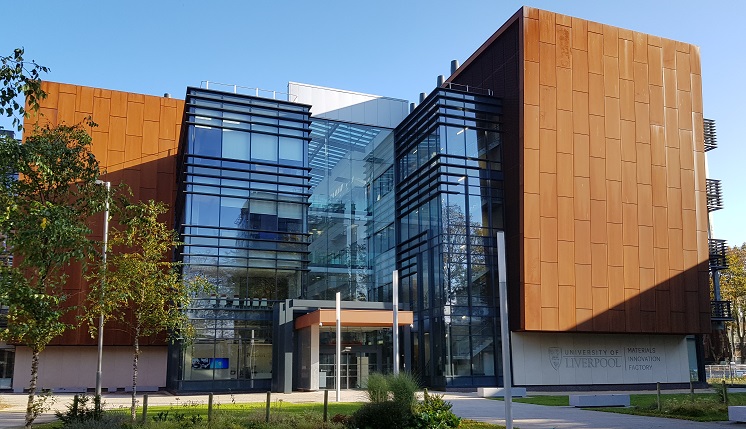 Vision of the MIF++ network : facilitate the collaboration with the MIF
The Materials Innovation Factory (MIF) is the £82M research institute, which was officially opened in 2018.
The vision is to provide collaborative opportunities for colleagues from other departments in the University of Liverpool.
The MIF++ network runs 2-hour seminars that include a presentation combined with lunch and informal discussions.
The lunch is free and should be well-deserved, so it comes one hour after the start to make all discussions easier.
The aim is to connect colleagues, who are experts from different areas and would like to start a joint project.
Back to Top of this page | Back to Home page
Style of network seminars and who is welcome to participate and contribute
An initial presentation should be self-contained and understandable to non-experts, aim at first year undergraduates. A computer projector is available and everyone can use a couple of white boards for extra explanations during the seminar.
A chemist (in a broad sense including chemical engineering and physical chemistry) could first explain basic concepts and then introduce a real problem, where computational methods can potentially help, and describe the state-of-the-art.
A computational expert (computer science, mathematics, electrical engineering) could similarly start from basic concepts and explain their methods on toy examples, also describe types of real data that can be processed by their methods.
All colleagues in the University of Liverpool are welcome to participate and give a talk. We expect different audiences depending on a talk, say for a group of about 20 people. If you wish to come, please e-mail me for catering purposes.
Back to Top of this page | Back to Home page
Network seminars (in the reverse chronological order) : 2020 | 2019
3 February 2020 : Prof Uwe Grimm (Open University Maths).
Time : 11-13 (lunch and discussion from about 12).
Location : the boardroom on the ground floor in the MIF.
Title. An introduction to aperiodically ordered systems and their diffraction.
Abstract. The talk will present an introductory overview on aperiodically ordered systems obtained from cut and project or inflation methods. The key methods and results will be illustrated by means of examples and pictures, leaving aside much of the mathematical details. For cut and project sets, the diffraction is well understood, and the general result and its application to examples will be discussed. In contrast, inflation systems are still only partially understood, and paradigms with different spectral type are presented. Finally, I will briefly discuss recent results on the Fourier transform of Rauzy fractals and the point spectrum of unimodular Pisot inflation tilings, which uses both the inflation and the projection structure.
Back to All seminars | Back to Top of this page | Back to Home page
Back to Top of this page | Back to Home page