Doctoral Network in Artificial Intelligence for Future Digital Health is a doctoral training centre funded by the University of Liverpool from October 2019 to train the next generation of world-leading experts in Artificial Intelligence to solve data intensive problems in healthcare.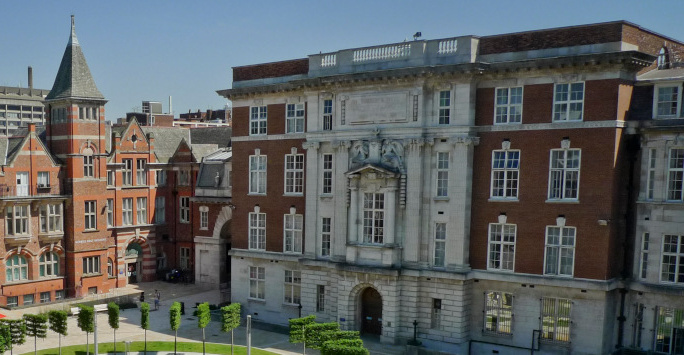 Vision of the doctoral network
The network will create a community of AI health care experts who will develop new AI tools for medical applications.
The vision is to establish a world-class centre providing high-quality doctoral training in AI for Future Digital Health.
The cohort-based training in a collaborative environment will feature peer-to-peer and cohort-to-cohort learning.
Each PhD project is carefully co-created in collaboration with a health provider and/or a healthcare commercial partner.
On completion students will be well-placed to take up rewarding careers within the domain of AI and Digital Health.
Back to Top of this page | Back to Home page
Leadership team of the network
Back to Top of this page | Back to Home page
PhD projects: first cohort from Autumn 2019
Back to Top of this page | Back to Home page
PhD projects: second cohort from Autumn 2020
Back to Top of this page | Back to Home page
Cohort-based training for PhD students
Back to Top of this page | Back to Home page
Advanced topics in Data Science and AI covered in Spring 2021
11 February 2021 : correlation and regression (Dr Matt Bright)
18 February 2021 : matrices of linear maps (Dr Matt Bright)
26 February 2021 : invariants of linear maps (Dr Matt Bright)
4 March 2021 : how to change a linear basis (Dr Matt Bright)
Talk Understanding ethnic inequalities in gastrointestinal infection by PhD student Iram Zahair
11 March 2021 : Principal Component Analysis (Dr Matt Bright)
18 March 2021 : Talk 12-lead ECG Classification Using Time Series Motifs by PhD student Hanadi Aldosari
15 April 2021 : graph classifications (Dr Vitaliy Kurlin)
22 April 2021 : single-edge clustering (Dr Vitaliy Kurlin)
29 April 2021 : skeletons of point clouds (Dr Vitaliy Kurlin)
6 May 2021 : three talks by PhD students at the PGR workshop
13 May 2021 : introduction to logistic regression (Dr Olga Anosova)
Talk Average Minimum Distances of periodic point sets by PhD student Marco Mosca
20 May 2021 : logistic regression as a link between statistics and machine learning (Dr Olga Anosova)
Introductory topics in Data Science and AI covered in Autumn 2020
8 October 2020 : introduction to Data Science (Dr Vitaliy Kurlin)
15 October 2020 : descriptive statistics (Dr Vitaliy Kurlin)
22 October 2020 : introduction to probability (Dr Vitaliy Kurlin)
29 October 2020 : probabilistic paradoxes (Dr Olga Anosova)
Talk 'Learning to Prioritise Pathology Data in the Absence of a Ground Truth' by PhD student Jing Qi
Talk `Wearable Sensing for Non-invasive Human Pose Estimation during Sleep' by PhD student Omar Elnaggar
5 November 2020 : probability distributions (Dr Olga Anosova)
Talk 'The Maintenance of Trials Methodology Research Using Machine Learning' by PhD student Iqra Muhammad
12 November 2020 : statistical hypotheses (Dr Olga Anosova)
Talk `Machine learning for influenza A viral host classification' by PhD student Yanhua Xu
19 November 2020 : equivalences and metrics (Dr Vitaliy Kurlin)
Talk `Machine learning for mass cytometry data of chronic lymphocytic leukemia' by PhD student Muizdeen Raji
26 November 2020 : Earth Mover's distance (Cameron Hargreaves)
Talk `Using k-modes clustering to identify different types of cyclists' by PhD student Aidan Watmuff
3 December 2020 : talk `Biomarkers-based detection of liver cancer' by PhD student Mohamed Elhalwagy
10 December 2020 : introduction to Bayesian statistics (Dr Olga Anosova)
17 December 2020 : frequentist vs Bayesian approaches (Dr Olga Anosova)
Back to Top of this page | Back to Home page
Advanced topics in Data Science and AI covered in Spring 2020
6 February 2020 : the Bayes theorem with examples (Dr Vitaliy Kurlin)
13 February 2020 : AI for Health (Prof Frans Coenen),
Student presentations by Matthew Carter and Vincent Beraud
20 February 2020 : conditional probabilities (Dr Olga Anosova)
27 February 2020 : frequentist vs Bayesian (Dr Olga Anosova),
Student presentations by Jing Qi and Theofilos Triommatis
12 March 2020 : graph representations (with a tutorial by Dr Olga Anosova)
19 March 2020 : graph classifications (Dr Vitaliy Kurlin)
26 March 2020 : graph visualisations (Dr Vitaliy Kurlin)
30 April 2020 : single-edge clustering of point clouds (Dr Vitaliy Kurlin)
7 May 2020 : Voronoi diagrams of point clouds (Dr Vitaliy Kurlin)
14 May 2020 : skeletons of point clouds (Dr Vitaliy Kurlin)
Back to Top of this page | Back to Home page
Introduction to Data Science and AI in Autumn 2019
8 October 2019 : descriptive statistics (Dr Vitaliy Kurlin)
15 October 2019 : probability theory (Dr Vitaliy Kurlin)
22 October 2019 : statistical hypotheses (Dr Vitaliy Kurlin)
29 October 2019 : correlation and regression (Dr Vitaliy Kurlin)
5 November 2019 : clustering problems and k-means (Dr Vitaliy Kurlin)
12 November 2019 : equivalence relations and vectors (Dr Vitaliy Kurlin)
19 November 2019 : matrices of linear maps (Dr Olga Anosova)
26 November 2019 : invariants of linear maps (Dr Vitaliy Kurlin)
3 December 2019 : how to change a linear basis (Dr Vitaliy Kurlin)
10 December 2019 : Principal Component Analysis (Dr Vitaliy Kurlin)
Back to Top of this page | Back to Home page