Doctoral Network in Artificial Intelligence for Future Digital Health is a doctoral training centre funded by the University of Liverpool from October 2019 to train the next generation of world-leading experts in Artificial Intelligence to solve data intensive problems in healthcare.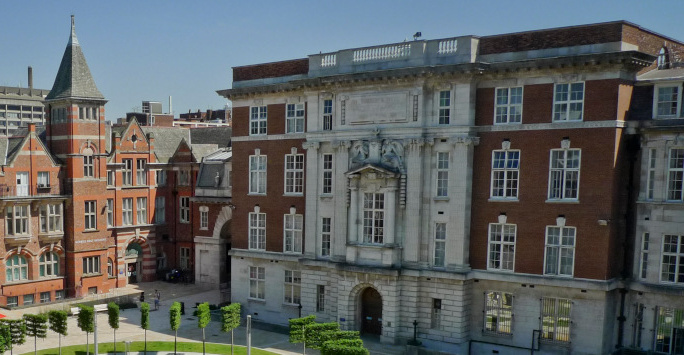 Vision of the doctoral network
The network will create a community of AI health care experts who will develop new AI tools for medical applications.
The vision is to establish a world-class centre providing high-quality doctoral training in AI for Future Digital Health.
The cohort-based training in a collaborative environment will feature peer-to-peer and cohort-to-cohort learning.
Each PhD project is carefully co-created in collaboration with a health provider and/or a healthcare commercial partner.
On completion students will be well-placed to take up rewarding careers within the domain of AI and Digital Health.
Back to Top of this page | Back to Home page
Leadership team of the network
Back to Top of this page | Back to Home page
Call for supervisors to submit PhD projects to start in October 2021
PhD projects: first cohort from Autumn 2019
Back to Top of this page | Back to Home page
PhD projects: second cohort from Autumn 2020
Back to Top of this page | Back to Home page
Cohort-based training for PhD students
Dr Vitaliy Kurlin leads the following cohort-based PhD training programme in the doctoral network from October 2019.
Students with complementary skills can be paired to encourage peer learning, e.g. PhD students from the networks DTC Materials Chemistry, EPSRC CDT in Distributed Algorithms, Technologies for Healthy Ageing, DSTA group are welcome.
If you would like to join or supervise PhD students who need will benefit from our training, please e-mail Dr Vitaliy Kurlin.
Anonymous student feedback (pdf, 1M) on all lectures and tutorials by Dr Vitaliy Kurlin and Dr Olga Anosova in 2019.
In Autumn 2020 the training will be between 9-12 on Thursdays from 8th October 2020 via MS Teams.
09.00 - 09.50 : a lecture on AI or Data Science topics given by Dr Vitaliy Kurlin or colleagues.
10.00 - 10.50 : a tutorial on the topic of the lecture given by Dr Vitaliy Kurlin or PhD students.
11.00 - 11.50 : 20-min presentations by PhD students followed by feedback and discussions.
The underpinning modules are Introduction to Data Science and Advanced Data Science.
All slides are in the section Files of the MS Team "PhD training in AI and Data Science".
Back to Top of this page | Back to Home page
Advanced topics in Data Science and AI covered in Spring 2021
11 February 2021 : correlation and regression
18 February 2021 : matrices of linear maps
26 February 2021 : invariants of linear maps
4 March 2021 : how to change a linear basis
11 March 2021 : Principal Component Analysis
18 March 2021 : graph representations
25 March 2021 : graph visualisations
15 April 2021 : single-edge clustering
22 April 2021 : Voronoi diagrams of clouds
29 April 2021 : skeletons of point clouds
Introductory topics in Data Science and AI covered in Autumn 2020
8 October 2020 : introduction to Data Science (Dr Vitaliy Kurlin)
15 October 2020 : descriptive statistics (Dr Vitaliy Kurlin)
22 October 2020 : introduction to probability (Dr Vitaliy Kurlin)
29 October 2020 : probabilistic paradoxes (Dr Olga Anosova)
Talk 'Learning to Prioritise Pathology Data in the Absence of a Ground Truth' by PhD student Jing Qi
Talk `Wearable Sensing for Non-invasive Human Pose Estimation during Sleep' by PhD student Omar Elnaggar
5 November 2020 : probability distributions (Dr Olga Anosova)
Talk 'The Maintenance of Trials Methodology Research Using Machine Learning' by PhD student Iqra Muhammad
12 November 2020 : statistical hypotheses (Dr Olga Anosova)
Talk `Machine learning for influenza A viral host classification' by PhD student Yanhua Xu
19 November 2020 : equivalences and metrics (Dr Vitaliy Kurlin)
Talk `Machine learning for mass cytometry data of chronic lymphocytic leukemia' by PhD student Muizdeen Raji
26 November 2020 : Earth Mover's distance (Cameron Hargreaves)
Talk `Using k-modes clustering to identify different types of cyclists' by PhD student Aidan Watmuff
3 December 2020 : talk `Biomarkers-based detection of liver cancer' by PhD student Mohamed Elhalwagy
10 December 2020 : introduction to Bayesian statistics (Dr Olga Anosova)
17 December 2020 : frequentist vs Bayesian approaches (Dr Olga Anosova)
Back to Top of this page | Back to Home page
Advanced topics in Data Science and AI covered in Spring 2020
6 February 2020 : the Bayes theorem with examples
13 February 2020 : AI for Health (Prof Frans Coenen),
Student presentations by Matthew Carter and Vincent Beraud
20 February 2020 : conditional probabilities (Dr Olga Anosova)
27 February 2020 : frequentist vs Bayesian (Dr Olga Anosova),
Student presentations by Jing Qi and Theofilos Triommatis
12 March 2020 : graph representations (with a tutorial by Dr Olga Anosova)
19 March 2020 : graph classifications (online between 11.00-12.40 via Zoom)
26 March 2020 : graph visualisations (online between 11.00-12.40 via Zoom)
30 April 2020 : single-edge clustering of point clouds (online at 10.00)
7 May 2020 : Voronoi diagrams of point clouds (online at 10.00)
14 May 2020 : skeletons of point clouds (online at 10.00)
Back to Top of this page | Back to Home page
Introductory topics in Data Science and AI covered in Autumn 2019
8 October 2019 : descriptive statistics
15 October 2019 : probability theory
22 October 2019 : statistical hypotheses
29 October 2019 : correlation and regression
5 November 2019 : clustering problems and k-means
12 November 2019 : equivalence relations and vectors
19 November 2019 : linear maps (Dr Olga Anosova)
26 November 2019 : invariants of linear maps
3 December 2019 : how to change a linear basis
10 December 2019 : Principal Component Analysis
Back to Top of this page | Back to Home page