Doctoral Network in Artificial Intelligence for Future Digital Health is a doctoral training centre funded by the University of Liverpool from October 2019 to train the next generation of world-leading experts in Artificial Intelligence to solve data intensive problems in healthcare.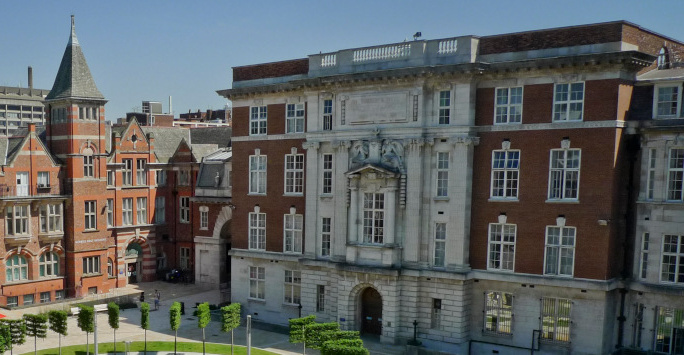 Vision of the doctoral network
The network will create a community of AI health care experts who will develop new AI tools for medical applications.
The vision is to establish a world-class centre providing high-quality doctoral training in AI for Future Digital Health.
The cohort-based training in a collaborative environment will feature peer-to-peer and cohort-to-cohort learning.
Each PhD project is carefully co-created in collaboration with a health provider and/or a healthcare commercial partner.
On completion students will be well-placed to take up rewarding careers within the domain of AI and Digital Health.
Back to Top of this page | Back to Home page
Leadership team of the network
Back to Top of this page | Back to Home page
Cohort-based training for PhD students
Dr Vitaliy Kurlin leads the following cohort-based PhD training programme in the doctoral network from October 2019.
Students with complementary skills can be paired to encourage peer learning, e.g. PhD students from the networks DTC Materials Chemistry, EPSRC CDT in Distributed Algorithms, Technologies for Healthy Ageing, DSTA group are welcome.
If you would like to join or supervise PhD students who need will benefit from our training, please e-mail Dr Vitaliy Kurlin.
Anonymous student feedback (pdf, 1M) on all lectures and tutorials by Dr Vitaliy Kurlin and Dr Olga Anosova in 2019.
In Autumn 2021 the sessions were on Wednesdays from 6th October 2021, now on Tuesdays at 14-17 via MS Teams.
All students are welcome to practice their 20-min talks, for example for the SGAI workshop on 14 December 2021.
Back to Top of this page | Back to Home page
Advanced topics in Data Science and AI in Spring 2022
17 May 2022 : introduction to Machine Learning, part 2 (PhD student Adam Coxson)
10 May 2022 : introduction to Machine Learning, part 1 (PhD student Adam Coxson)
26 April 2022 : The Crystal Isometry Principle (Dr Vitaliy Kurlin's virtual LIV.DAT seminar at Liverpool Physics)
29 March 2022 : The Crystal Isometry Principle (Dr Vitaliy Kurlin's online colloquium at Open University)
22 March 2022 : Principal Component Analysis and Singular Value Decomposition (Dr Matt Bright)
15 March 2022 : orthonormalisation and the covariance matrix (Dr Matt Bright)
8 March 2022 : how to change a linear basis of a vector space (Dr Matt Bright)
1 March 2022 : the determinant and other isometry invariants (Dr Matt Bright)
Talk Grouping bacteria using data obtained from antibiotic laboratory testing by PhD student Alessandro Gerada
22 February 2022 : isometries and orthogonal maps (Dr Matt Bright)
15 February 2022 : matrices of linear maps (Dr Matt Bright)
8 February 2022 : clustering algorithms (Dr Matt Bright)
1 February 2022 : correlation and regression (Dr Matt Bright)
Back to Top of this page | Back to Home page
Introductory topics in Data Science and AI in Autumn 2021
7 December 2021 : introduction to Bayesian networks and Monte-Carlo methods (Dr Olga Anosova)
Talk Predicting Influenza A Viral Host Using PSSM and Word Embeddings by PhD student Yanhua Xu
30 November 2021 : from frequentist statistics to the Bayesian approach (Dr Olga Anosova)
Talk Data Science-based approach to solid crystalline materials by PhD student Daniel Widdowson
23 November 2021 : statistical hypotheses (Dr Matt Bright)
16 November 2021 : probability distributions (Dr Matt Bright)
9 November 2021 : probabilistic paradoxes (Dr Olga Anosova)
3 November 2020 : introduction to probability (Dr Olga Anosova)
27 October 2021 : important structures on mathematical objects (Dr Matt Bright)
Talk Earth Mover's Distance on chemical compositions by PhD student Cameron Hargreaves
20 October 2021 : thinking like a mathematican (Dr Matt Bright)
13 October 2021 : descriptive statistics (Dr Matt Bright)
6 October 2021 : introduction to Data Science (Dr Vitaliy Kurlin)
Back to Top of this page | Back to Home page
Advanced topics in Data Science and AI in Spring 2021
20 May 2021 : logistic regression as a link between statistics and machine learning (Dr Olga Anosova)
13 May 2021 : introduction to logistic regression (Dr Olga Anosova)
Talk Average Minimum Distances of periodic point sets by PhD student Marco Mosca
6 May 2021 : three talks by PhD students at the PGR workshop
29 April 2021 : skeletons of point clouds (Dr Vitaliy Kurlin)
22 April 2021 : single-edge clustering (Dr Vitaliy Kurlin)
15 April 2021 : graph classifications (Dr Vitaliy Kurlin)
18 March 2021 : Talk 12-lead ECG Classification Using Time Series Motifs by PhD student Hanadi Aldosari
11 March 2021 : Principal Component Analysis (Dr Matt Bright)
4 March 2021 : how to change a linear basis (Dr Matt Bright)
Talk Understanding ethnic inequalities in gastrointestinal infection by PhD student Iram Zahair
26 February 2021 : invariants of linear maps (Dr Matt Bright)
18 February 2021 : matrices of linear maps (Dr Matt Bright)
11 February 2021 : correlation and regression (Dr Matt Bright)
Back to Top of this page | Back to Home page
Introductory topics in Data Science and AI in Autumn 2020
17 December 2020 : frequentist vs Bayesian approaches (Dr Olga Anosova)
10 December 2020 : introduction to Bayesian statistics (Dr Olga Anosova)
3 December 2020 : talk Biomarkers-based detection of liver cancer by PhD student Mohamed Elhalwagy
26 November 2020 : Earth Mover's distance (Cameron Hargreaves)
Talk Using k-modes clustering to identify different types of cyclists by PhD student Aidan Watmuff
19 November 2020 : equivalences and metrics (Dr Vitaliy Kurlin)
Talk `Machine learning for mass cytometry data of chronic lymphocytic leukemia by PhD student Muizdeen Raji
12 November 2020 : statistical hypotheses (Dr Olga Anosova)
Talk Machine learning for influenza A viral host classification by PhD student Yanhua Xu
5 November 2020 : probability distributions (Dr Olga Anosova)
Talk The Maintenance of Trials Methodology Research Using Machine Learning by PhD student Iqra Muhammad
29 October 2020 : probabilistic paradoxes (Dr Olga Anosova)
Talk Learning to Prioritise Pathology Data in the Absence of a Ground Truth by PhD student Jing Qi
Talk Wearable Sensing for Non-invasive Human Pose Estimation during Sleep by PhD student Omar Elnaggar
22 October 2020 : introduction to probability (Dr Vitaliy Kurlin)
15 October 2020 : descriptive statistics (Dr Vitaliy Kurlin)
8 October 2020 : introduction to Data Science (Dr Vitaliy Kurlin)
Back to Top of this page | Back to Home page
Advanced topics in Data Science and AI in Spring 2020
14 May 2020 : skeletons of point clouds (Dr Vitaliy Kurlin)
7 May 2020 : Voronoi diagrams of point clouds (Dr Vitaliy Kurlin)
30 April 2020 : single-edge clustering of point clouds (Dr Vitaliy Kurlin)
26 March 2020 : graph visualisations (Dr Vitaliy Kurlin)
19 March 2020 : graph classifications (Dr Vitaliy Kurlin)
12 March 2020 : graph representations (with a tutorial by Dr Olga Anosova)
27 February 2020 : frequentist vs Bayesian (Dr Olga Anosova),
Student presentations by Jing Qi and Theofilos Triommatis
20 February 2020 : conditional probabilities (Dr Olga Anosova)
13 February 2020 : AI for Health (Prof Frans Coenen),
Student presentations by Matthew Carter and Vincent Beraud
6 February 2020 : the Bayes theorem with examples (Dr Vitaliy Kurlin)
Back to Top of this page | Back to Home page
Introductory topics in Data Science and AI in Autumn 2019
10 December 2019 : Principal Component Analysis (Dr Vitaliy Kurlin)
3 December 2019 : how to change a linear basis (Dr Vitaliy Kurlin)
26 November 2019 : invariants of linear maps (Dr Vitaliy Kurlin)
19 November 2019 : matrices of linear maps (Dr Olga Anosova)
12 November 2019 : equivalence relations and vectors (Dr Vitaliy Kurlin)
5 November 2019 : clustering problems and k-means (Dr Vitaliy Kurlin)
29 October 2019 : correlation and regression (Dr Vitaliy Kurlin)
22 October 2019 : statistical hypotheses (Dr Vitaliy Kurlin)
15 October 2019 : probability theory (Dr Vitaliy Kurlin)
8 October 2019 : descriptive statistics (Dr Vitaliy Kurlin)
Back to Top of this page | Back to Home page
PhD projects: first cohort from Autumn 2019 (seven students)
Back to Top of this page | Back to Home page
PhD projects: second cohort from Autumn 2020 (five students)
Back to Top of this page | Back to Home page
PhD projects: third cohort from Autumn 2021 (six students)
Back to Top of this page | Back to Home page